EDITOR'S PICK
To Bertha from C.C. Ballou – June 19, 1918
[Note: C.C. Ballou commanded the 92d Division – an African American unit – in France during World War I. A transport ship for the U.S. Navy in World War II was named after him (the USS General C. C. Ballou (AP-157))]
Headquarters Ninety Second Division
My dear Bertha,
I am at rest for a minute. Have found various old friends – Edie, Dave, Stanley, and others that you don't know. Expect to move on in a day or two. You get more and more accurate war news in Washington than we do here. My two brigade commanders arrived today and are with me. Get very good food. It tastes deliciously cooked. Think I will _____ up a French chef as I don't like soldier cooks very much, especially colored ones. You would be reminded here of paintings you have seen of peasants of Brittany – white caps, wooden doors, and coarse Celtic faces, of course I refer to the women. I heard a rather good _____ apropos of Anne of Brittany. I had said I merely knew of her existence but nothing of her history and was told that she was a very lively lady and had as many husbands as there are bathtubs in Brest, a city of 90,000. I took this to mean quite some husbands but not an excessive number of bathtubs. The number of women in mourning in France is appalling and brings a realization of what a horrid thing Germany has done in causing war.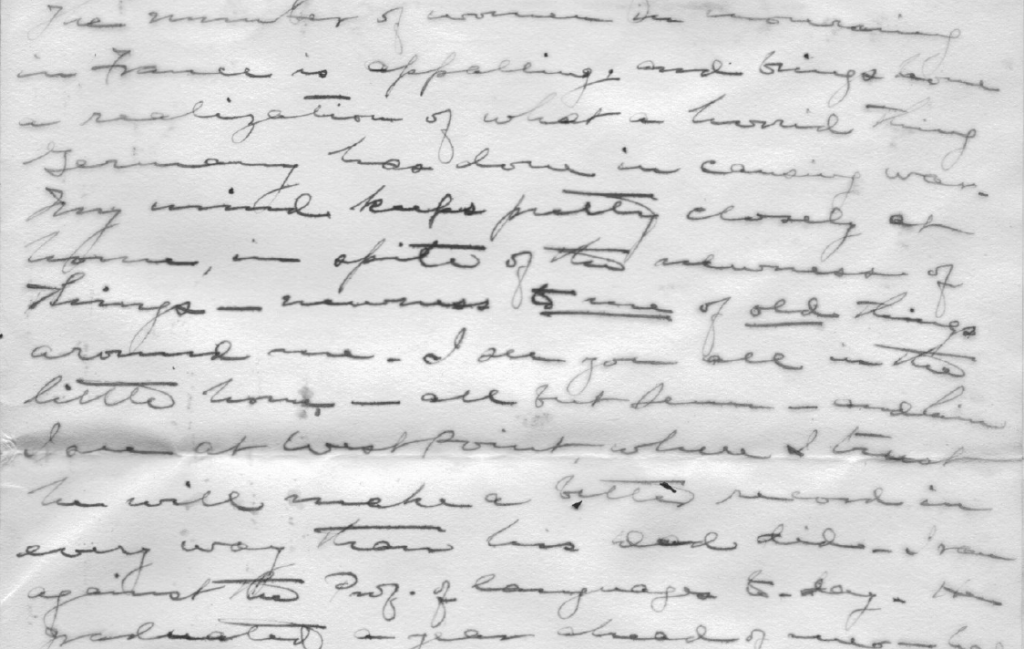 My mind keeps getting pretty closely at home, in spite of the newness of things – newness to me of old things around me. I see you all in the little homes, all but Senn, ____ _____ at West Point where I trust he will make a better record in every way than his dad did. I ran against the Professor of Language today. He graduated a year ahead of me, had not seen me since '85 and _____ me. Some stunt to keep one's Cadet looks for thirty-three years and now I must close for there is little news one knows, and less that one can write.
Of course you must not speculate out loud as to where we are going to be located. Just think as little as possible of disagreeable things and don't worry. If you hear startling stories, take them with a grain of salt.
Love to all,
Your loving old dad.
I wrote Mamma in route. Of course you will give _____ ______ that I am well and _____ when you get my letters.