EDITOR'S PICK
To Bertha from Marie Schubert – October 30, 1924
[Note: Bertha is 33 and has asked Marie about how to get her start as a commercial artist (the equivalent of a graphic designer today). It doesn't appear that Bertha ever went down that path. She received a fellowship from the Tiffany Foundation that year, which likely encouraged her to pursue her art.]
I am posting this on my way to lunch. Have been doing a couple of color jobs – a very fluffy "fairy queen" effect in a paper face looking negligee for a folder advertising bedroom slippers. 4 pairs are sketched in color – blue, yellow and black, raspberry and gold, and pink and blue. It really has been fun and I somewhat forgot my headache. I have in prospect this afternoon a cover for a history I'm doing – white seagulls on intense blue sky, a salmon sun, blue and white and salmon ocean, with silhouette of an ancient "Balboa and Drakey" looking vessel (which I love) "Pacific History" in salmon with Topside and Harr Wagner Publishing Company beneath.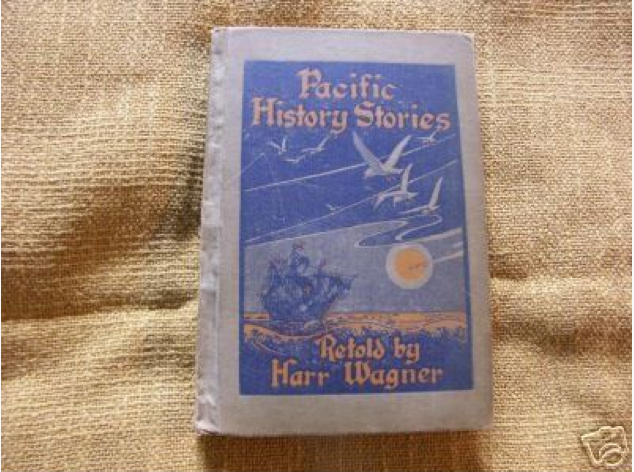 I have an extra special Christmas card order – a Life Insurance company whose building makes a picture at Twilight against Twin Peaks. I'm going to go up Market St. some (late) afternoon and do it and then make a small poster effect reproduction for the card and use that with "Greetings" and so forth to make it appropriate and I have a cover for a golfing and sporting magazine that I was told about three weeks ago to have a try at and haven't touched it yet and there are a stack of toys here waiting. I love drawing cunning dolls and pups and cats and elephants but the circular trains and toy typewriters aren't so much fun.
Wouldn't it be fun if Dorothy would join us two in Paris next fall? I would come through the Orient up by Spain sketching.
Once more, au revoir.
Marie
Part II
In your letter, you spoke of commercial art. The way to begin is to look at advertisements in the papers, for instance a "quite swell" hat sketch. Then take one of your own and put it on and do a Higgins waterproof ink sketch on Strathmore 2 or 4 play rather slick surface (in pen and ink not wash.) Pen and ink makes line cuts or Zimco's, some people call them costing about half what wash drawings amount to for they have to be halftones. Always remember that space in a newspaper costs dollars per inch and don't do a hat with lots of body sticking down or a coat with arms sticking out in the air eating up valuable space.
To get together samples, take your own stuff and do a preliminary sketch, a dress, a coat, a suit, a fur piece, stockings, gloves, handbags, blouse, etcetera. First studying those in the newspapers and working about half again as large. If you are given a job ask, "How wide by how deep?" If he says 4×10, he means four columns wide by 10 inches or 10 lines. Be sure to find out whether they measure depth by lines or inches. If the former, get a line ruler such as engravers use, a column is about 9 inches wide. Measure a newspaper if in doubt. Before you start your sketches, go to the library and look at the International Correspondence School books on Illustration and Commercial Art and Advertising. Even if you get old books with antique and wildly funny pictures, the technique of the thing is underneath and I do truly think you will find it fascinating once you get started.
When your samples are ready to go to the advertising manager of department stores and advertising agencies, tell them you have had years of art training and are sure you can give them something a little out of the ordinary and that to get started, you will be very reasonable in your prices. Figures average from $2.50 to $10.00 apiece. Shoes are hard for beginners but bring $2.50 to $10.00 also. A child's figure takes less time than women's so the prices are from a dollar up in quantities. Never do a sketch less than $2.50 if you make a special trip for it (going to see about it and going to deliver it eats up time you know.) A blouse or hat or glove or stocking think will be about $2.00 up to most anything depending on how many you get in a bunch you know. I have turned out 20 sketches from 10AM to 2PM but the ideal rate is about seven figures in a day.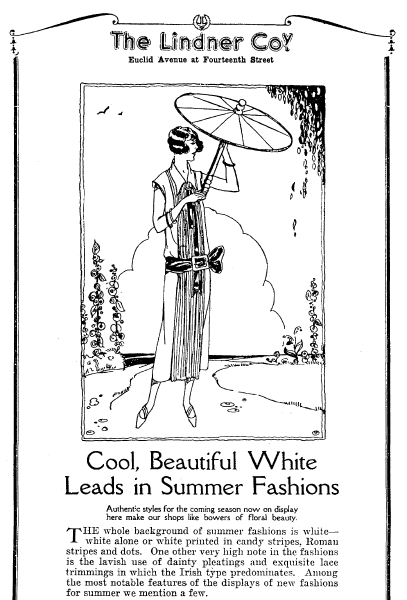 Do your sketches very lightly in a rather hard pencil every time just as you want it then ink it. Don't use a soft pencil. This makes a messy drawing. Clean well with art ____ afterward and if you smear, use Ruhl's intense white or Devoes show card white. Put on with pen. Study pattern sheets to see how stitching pleats and folds are handled. It is hard for beginners to make folds without making it look like wrinkles and if there aren't any folds, it looks tight as a sausage so one has to make folds.
Get a book on lettering (Blairs, if you can) but one with lots of alphabets and lots of sizes. If you get a letter job, get some onionskin paper and space the letters correctly by tracing it till it looks right.
Don't ever admit that you can't do anything on Earth, you can if you try. Scout round and see how other people handled it and then pitch into it.
I take anything. I've drawn kitchen stores and brass monkeys and I don't hesitate an instant. Never flicker an eyelash no matter what they spring. I say somethings, "I have a number of ideas. Let me feel around with roughouts till I see which will fill the space best." And, in taking a job, never fail to ask, "When do you have to have this?" Newspapers are like trains – you just can't be late you know. You will win their hearts by always getting you stuff to them a little earlier than they say though they generally make it from 2 to 24 hours ahead of schedule at that for safety's sake. So, if you get too hurried say to them, "You know, I can do much better work if I don't have to rush it so can't you let me have just a little bit longer?"
How I do wish I could be with you and start you off right. Once you get going, you can go anywhere in the world and earn a good living at commercial art. I have proved that and now is a wonderful time to start with the Christmas rush coming on.
III
This is part three and I have been delayed by hearing the death of dear grandma Lubbs of whom I know you've heard me speak. She was my good angel during months and months of anxiety and struggle and bitter headaches. Dorothy's letter dropped the funeral notice into my hand and though I can't yet realize that I'll never see grandma gain. It has been a terrible shock. I feel as if I had been pounded and I couldn't help getting more behind with my work than ever. So, now, I am working very hard to catch up again.
Dolores is married. Mrs. H Bryant now. She was painfully shy and never admitted to people that she was engaged till her wedding was announced. A girl chum of hers (whose husband disappeared some months ago, leaving her alone with two or three little children and believing him murdered) is taking a house or apartment and I may go to her instead of remaining where I am. I'm to see her Tuesday.
I have to go home now. It is late and _____ _____ has gone out of town a few days, leaving Sonny Boy with a young daughter _____ is a darling but I worry so because if any emergency arose, she is only a child herself after all.
I'll write again soon. I do so love to hear from you and we may meet in Paris next fall. I have about a thousand in bank and bills out right now for another thousand and work averaging a hundred a week probably till after Christmas (maybe till after Easter) so I'm thinking of a trip around the world next fall. More next time.
Loads of love as ever.
Marie
746 New Call Bldg.