To Evelyn Hope Daniels from Bertha – March 22, 1970

[Note: This is last letter we have. Bertha is 80 and has eight years to live. It was returned to sender, "cause: recipient deceased".]
2920 West Sherwood Avenue
Spokane, Washington
Dear Evelyn Hope,
At last in going through old cards and papers, I have run across an address in Franklin, North Carolina.
I write at once – want the address at Christmas but couldn't find it.
Well, I'm still here, in my eightieth year, but strong and active, still working in my studio through not much this winter, a few portraits every year, usually pupils, but not during the last six months. Have been asked to write the story of my life but haven't dared mention it to my mind younger sister, Sally, with whom I live. She would probably be outraged at the idea so I keep it under my hat.
Sorry that your mother had to use a wheelchair, those things come to the most rigorous. I was happy on living here with studio next door during my mother's last years. Could keep painting and teaching and then come in in the afternoon and make tea and read for her.
Now there is only Sally (12 years younger) and myself.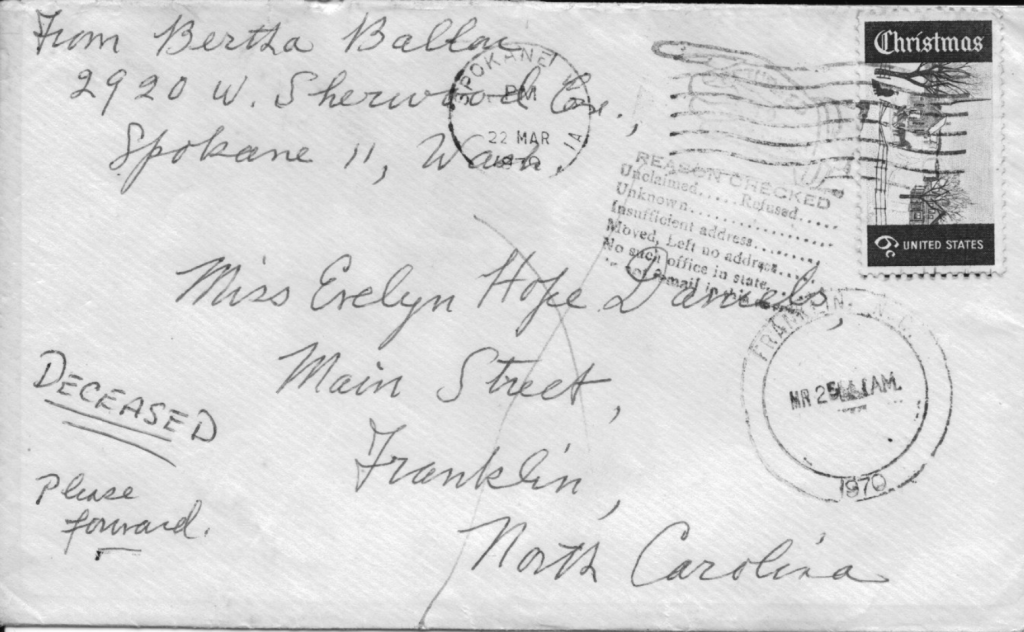 Not too good a set up. I am busy as I like to be, do a bit of gardening and have lived in Spokane as home base for around fifty or sixty years.
Do let me hear more from you. I wrote to one of your cousins in New York City last year, to get news, but without definite result.
What am I doing now? Working, riding herd on three dogs and ten or fifteen cats and kittens. Flowers are beginning, we are far north, but a reasonably good climate. Do let me hear right if this reaches you. Am trying to "pick up the threads." Was married as you know. Got a divorce, the deceased wife's family came to me and begged me to keep the children, so I wasn't too bad a step mother. But, of course, I couldn't keep the children much as I wished.
Went abroad for a couple of years, back to work. And that's about it.
Pleases write. I've thought of you so often. Found a burglar in the house day before yesterday and got the police, when they came, they were so nice and comforting (though the burglar had run away) that it "took me back" to the old days in New York City (crossing the streets).
Do let me know if you are well, happy, working?
With fondest recollections of happy days,
Bertha (Ballou)
From Bertha Ballou
2920 West Sherwood Avenue
Spokane II, Washington
Miss Evelyn Hope Daniels
Main Street
Franklin North Carolina
DECEASED
Please forward.